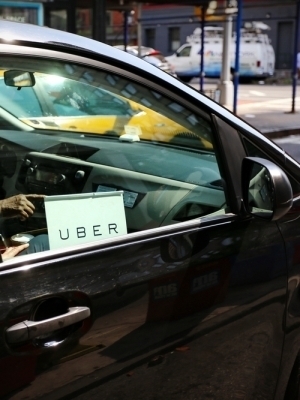 SAN FRANCISCO, Calif – The plaintiffs' attorney who filed a large class-action suit against Uber has filed a second suit on behalf of drivers precluded from the initial class.
On Jan. 4, attorney Shannon Liss-Riordan filed a lawsuit in San Francisco Superior Court against Uber Technologies Inc. on behalf of 78 plaintiffs who couldn't be included in O'Connor v. Uber because they drove for Uber through a third-party company or used corporate names instead of their individual names.
The decision to exclude the plaintiffs was determined by U.S. District Judge Edward Chen of the Northern District of California, who ruled that the drivers who fell under the two mentioned categories had to be left out of the class he certified in September.
The suit contends that Uber misclassified its drivers as independent contractors when they are actually employees, and therefore entitled to employee benefits like health benefits and reimbursement for job related expenses like gas and vehicle maintenance.
California Citizens Against Lawsuit Abuse (CALA) Representative Julie Griffiths told the Northern California Record that CALA doesn't typically make statements on particular cases, but rather looks at the overarching law regarding certain kinds of lawsuits.
"If the only route possible to determine misclassification of an employee is through a lawsuit, that is one thing," Griffiths said. "But if there are other means by which they could figure out if there is misclassification through the Department of Labor and/or EDD, then we would always urge plaintiffs to consider taking that route."
According to the complaint, the plaintiffs assert that "Uber is in the business of providing car service to customers, and that is the service the Uber drivers provide. The drivers' service is fully integrated into Uber's business, and without the drivers, Uber's business would not exist."
But since Uber drivers are classified as independent contractors and not employees, the drivers are required to pay for many of the expenses of their employment.
Uber fought against granting the case class status by filing a motion in July arguing that there is no such thing as a typical Uber driver, therefore lumping the complaints of all plaintiffs wouldn't be appropriate.
Douglas O'Connor, who was the lead plaintiff named in the case, was excluded from the case because he drove for the company through an intermediary, and is now listed as a plaintiff in the new lawsuit.
Chen opined in his September ruling that "the court first concludes that plaintiffs are Uber's presumptive employees because they 'perform services' for the benefit of Uber."
The O'Connor class could include up to 160,000 past and present Uber drivers in California and exclude about 10,000 drivers.
When the O'Connor case goes to trial in June in the Northern District of California, Liss-Riordan will argue that the plaintiffs are entitled to employee benefits, reimbursement for job-related expenses and tips Uber allegedly withheld.
Uber maintains that the flexibility its drivers have to control hours, schedules and preferred routes makes Uber drivers independent contractors.
The transportation company is headquartered in San Francisco and has grown rapidly since it was founded in 2009. In 2011, Uber expanded to other cities, and in by the end of that year had launched services internationally. Uber is represented by Gibson, Dunn & Crutcher partner Theodore Boutrous Jr.
Liss-Riordan has extensive experience in class-action employment lawsuits and has represented tipped workers, employees misclassified as independent contractors, and low wage workers. In 2003, Best Lawyers in America referred to the Boston-based attorney as "the reigning plaintiffs' champion."