SACRAMENTO — California's lawsuit climate is bad and isn't getting any better, according to a video by Faces of Lawsuit Abuse, a project of the U.S. Chamber Institute for Legal Reform, which owns this publication.
The institute's conclusions come from a survey it conducted, which will be released on Sept. 12.
"California, your state is stuffed with lawsuits from people who don't even live there," Faces of Lawsuit Abuse said in the video. "They're awarding ridiculous sums of money. Most of it goes to lawyers, and you let in frivolous cases that most courts would toss out."
The institute said the state's lawsuit climate is likely is encouraging business owners to make negative location and grown decisions in the state.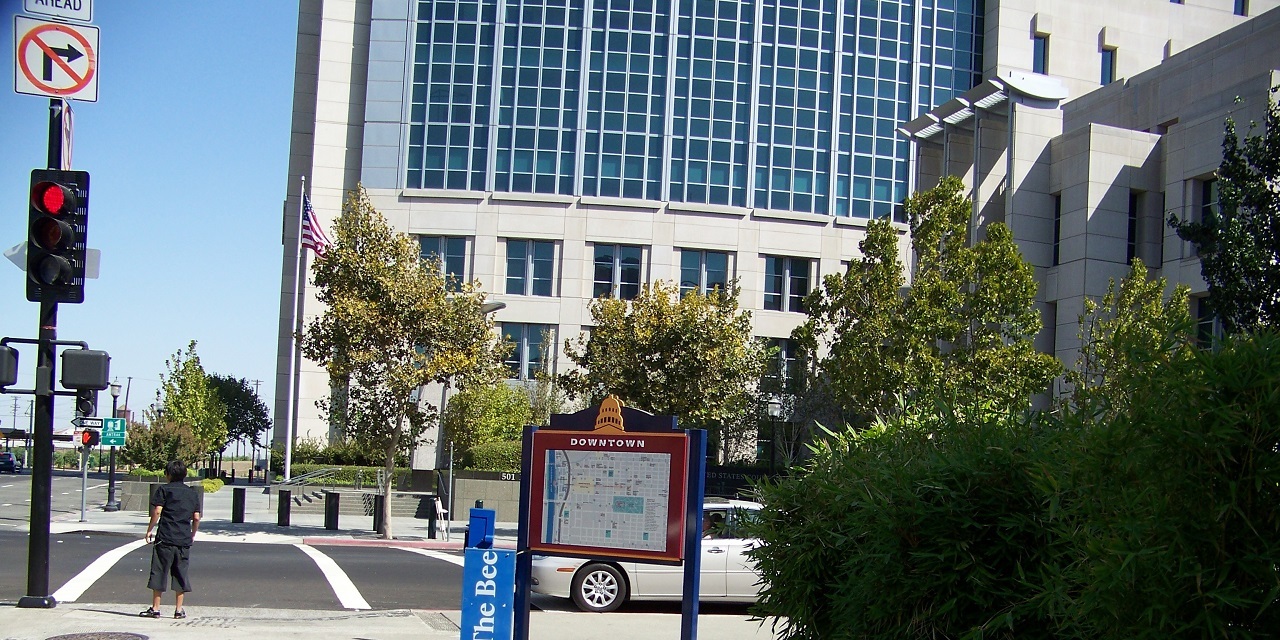 Robert T. Matsui U.S. Federal Courthouse in Sacramento
"This perception of California's poor litigation climate is critical," the institute said in a statement. "An all-time high 85 percent of survey participants said that a state's lawsuit environment is likely to impact their company's decisions about where to locate or expand."
California's reputation "as a hotbed for class-action lawsuits" likely contributed to its ranking in the survey, according to the statement. "In particular, 36 percent of the nation's food class-action lawsuits are filed in California based on state laws."
The Northern District of California, consequently, has become known as the country's "'food court,'" according to the institute.
This year marks the third time since 2012 that California's lawsuit climate has ranked 47th among 50 U.S. states in the institute's Harris Poll annual survey, which was first released in 2002. California has ranked among the bottom ten states every year they survey has been issued. The survey ranks U.S. states based on the experiences and observations of senior business executives in their states' lawsuit environments.
"California's lawsuit climate is stuck in the mud," Lisa A. Rickard, president of the Institute for Legal Reform, said in the statement. "California is a magnet for abusive lawyer-driven litigation, but rather than consider any reforms, the state legislature is laying down the welcome mat for even more lawsuits."
The survey ranked California "dead last" in overall treatment of tort and contract litigation, 49th for quality of its appeals process and 48th for treatment of class-action lawsuits and the fairness of its juries, the institute said in a statement.
"California is also home to one of the worst lawsuit jurisdictions in the nation: Los Angeles, which ranked second among the cities or counties with the worst legal environments," the institute said.
The state's court system has had budget woes since 2008, which, according to the institute, has caused "at least 52 courthouses and over 200 courtrooms" to shut their doors. The institute also said Tani Cantil-Sakauye, California Supreme Court Chief Justice, has estimated that the closures have "deprived more than two million Californians of accessible justice."
Survey participants included 1,203 in-house general counsel, senior litigators or attorneys and other senior executives who said they knew about litigation matters at companies with annual revenues of at least $100 million.
Participants were reached through more than 1,300 telephone and online interviews between March 31 and June 26, which asked for rankings about topics such as fairness of a given state's lawsuit environments in 10 categories that included state laws, courts, judges and juries.
The institute also issued the 2017 edition of its "101 Ways to Improve State Legal Systems," a listing of key legal reforms states can adopt to improve lawsuit climate.
The U.S. Chamber's Institute for Legal Reform seeks to promote civil justice reform through legislative, political, judicial and educational activities at the national, state and local levels.
The U.S. Chamber of Commerce is the world's largest business federation, representing the interests of more than 3 million businesses of all sizes, sectors and regions, as well as state and local chambers and industry associations.