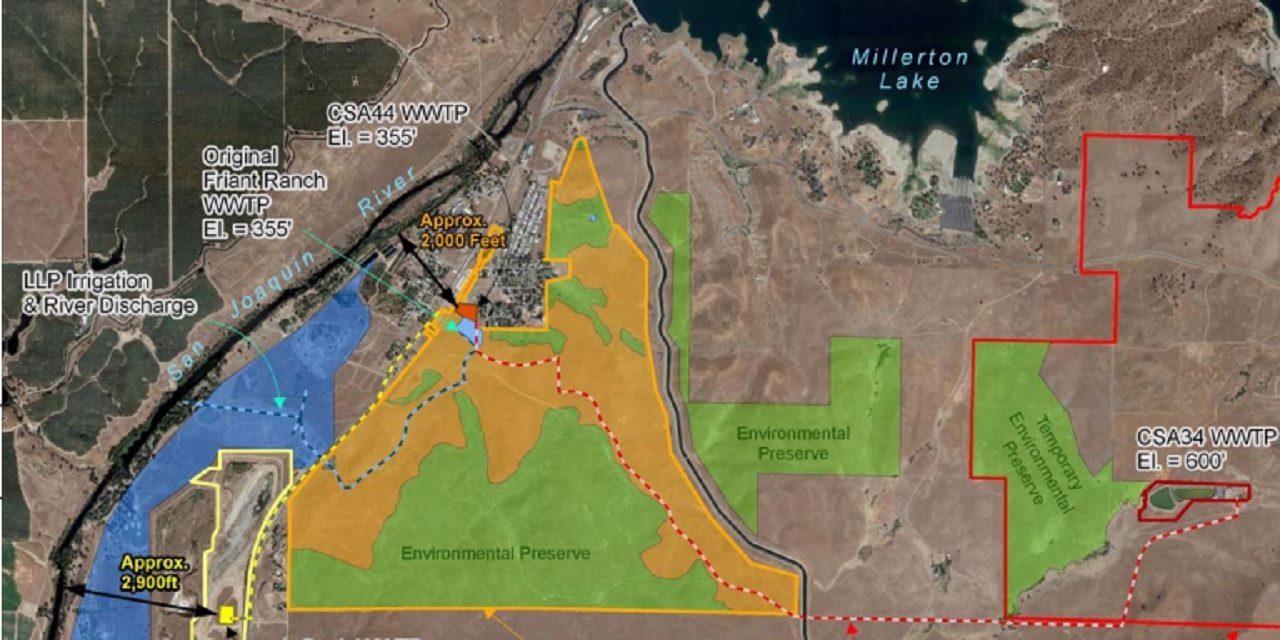 Portion of Friant Ranch development plans as approved by Fresno Board of Supervisors in 2011 | co.fresno.ca.us
SAN FRANCISCO — The development of the 942-acre Friant Ranch, as approved by the Fresno County Board of Supervisors about eight years ago, met yet another delay in a split California Supreme Court finding that the proposal doesn't provide enough state Environmental Quality Act analysis.
In its 37-page opinion handed down Dec. 24, the state's highest court reversed part of a Fifth District Court of Appeal judgment that the county's Environmental Impact Report didn't include an adequate analysis about possible impact of air pollutants. The lower court also found the project's mitigation measures for long-term air quality impact were vague, unenforceable and lacked specific performance criteria, all violations of state law.
"We granted review to determine whether an Environmental Impact Report (EIR), issued as part of a master plan to develop a partial retirement community in Fresno, California, violates the California Environmental Quality Act (CEQA) for failing to include sufficient information on topics the Act requires," the opinion said. "Our task is to review specific challenges to the final EIR that defendant County of Fresno and its Board of Supervisors adopted, and the trial court approved."

California Supreme Court Justice Ming W. Chin | swlaw.edu
Supreme Court Justice Ming W. Chin wrote the high court's opinion in which Chief Justice Tani Gorre Cantil-Sakauye and Justices Carol A. Corrigan, Goodwin H. Liu, Mariano-Florentino Cuéllar, Leondra R. Kruger and Third District Court of Appeal Associate Justice Ronald B. Robie concurred. Robie had been assigned to the case by Chief Justice Cantil-Sakauye.
Fresno County acted as the "lead agency" for the California Environmental Quality Act review and prepared the EIR for the proposed community in north central Fresno County, just south of the San Joaquin River. The proposed community would include about 2,500 single and multi-family residential units, a commercial village center, recreation center, trails, a neighborhood electric vehicle network, and parks and parkways, according to the background portion of the Supreme Court's opinion.
"The project also includes 250,000 square feet of commercial space on 482 acres and the dedication of 460 acres to open space," the opinion said. "An additional Friant Community Plan Update expands the specific plan area and adds policies that are consistent with the specific plan and the county's general plan. The project's construction is divided into five phases with an estimated 10-year build-out."
What the proposed development doesn't provide is "an adequate discussion of health and safety problems that will be caused by the rise in various pollutants resulting from the project's development," the Supreme Court said in its opinion's conclusion.
"At this point, we cannot know whether the required additional analysis will disclose that the project's effects on air quality are less than significant or unavoidable, or whether that analysis will require reassessment of proposed mitigation measures," the opinion continued. "Absent an analysis that reasonably informs the public how anticipated air quality effects will adversely affect human health, an EIR may still be sufficient if it adequately explains why it is not scientifically feasible at the time of drafting to provide such an analysis."