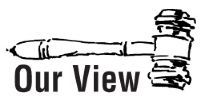 Five years ago, at the close of a 13-year public nuisance case against ConAgra, et al. in which 10 California counties and cities sought a billion-dollar judgment for lead paint abatement, Santa Clara County Superior Court Judge James Kleinberg urged defendants to give up.
"If you're interested in gambling, go to Reno and Las Vegas," Kleinberg advised. "If you are interested in being intelligent, you'll have to settle this case now."
How could defendants "settle" with politicians poised to pick their pockets, politicians pursuing a public nuisance action expressly to avoid the higher burden of proof required for negligence cases, politicians representing a bankrupt state specializing in shaking down successful commercial enterprises?
The defendants had no choice but to take their chances – which they did, and lost. Because California.
Kleinberg ruled in 2013 that ConAgra, Sherwin Williams, and NL Industries were liable for the abatement of lead paint in homes built prior to 1981. The Sixth District Court of Appeal affirmed the liability of the companies, but reduced its range to homes built before 1951.
The defendants now face an abatement bill of only $400-$700 million, versus the $1.15 billion estimate that included another 30 years' worth of houses. So, maybe they should be happy. It could have been worse.
"This will have a detrimental effect on a wide variety of constituents in California: businesses, homeowners, minorities, low-income or affordable housing," Sherwin Williams attorney Tony Dias commented.
"In addition, it also should be troubling that the decision by the court of appeals has really usurped the legislature's effort with its lead poison prevention program in the state that has proven to be very successful over the years."
The game's not over yet. Our state Supreme Court has refused to review the appeals court decision, but the U.S. Supreme Court may yet weigh in – and a ballot initiative, if approved, would raise $2 billion to finance lead abatement efforts and relieve the companies of their adjudicated liability.
Someday we may admit that the real public nuisance in California is our political class.